The Swift Biarritz at Allerton Park Holiday Park, North Yorkshire
Looking to buy a holiday lodge in North Yorkshire? Look no further than Allerton Park. Ideally located just off the A1 and only a short drive into Knaresborough, home of Mother Shipton Cave. Or there is Harrogate with the traditional tea rooms of Bettys and you can jump on the park and ride into York. Allerton Park is not just a great location the park is next to Allerton Castle and provides a welcome retreat. From a warm welcome at the reception to beautiful countryside surrounding the park this is more than just a place for the weekend it is a place to return time after time.
Owner Kevin Hind wants to ensure that holiday home ownership is simple and straight forward. There are no salespeople, no payment options plan, just a straight forward transaction. The Swift Biarritz is just one of the lodges for sale on Allerton Park. This sleek modern holiday lodge is perfect for couples and families plus it is very affordable at only £36,278.
Step inside the bright and airy lounge and with a modern kitchen with a family dining table it provides space for the all the family. The bedrooms have ample storage and with two bedrooms it is the ideal holiday home.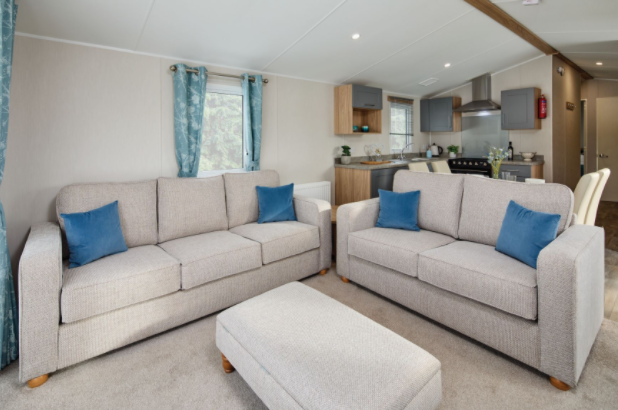 For Sales contact Kevin Hind on 07709 391252