Floating like a butterfly
Part of our ethos at Yorkshire Holiday Parks is to make our holiday parks "green" by working with the environment around us to improve our parks for our guests (and residents) but also the wildlife in the area too.
At this time of year we're really keen to encourage butterflies into the parks. As part of our Yorkshire in Bloom work, and our conservation work we make conscious decisions about what to plant around the parks.
The number one favourite shrub for attracting butterflies is Buddleia – we are sadly now coming to the end of its flowering period. Shortly the Sedum and Michaelmas Daisies will be in flower – both of these are loved by butterflies too. These plants are all nectar rich which provides a great source of energy for butterflies.
Around our holiday parks at Stamford Bridge and at Allerton Mauleverer near Knaresborough you may see the following types of butterfly:
Painted Ladies
Peacock
Red Admiral
Common Blue
Small White (also known as Cabbage White)
Small Tortoiseshell
If you have photos of any butterflies that you have taken at either Weir Holiday Park or Allerton Holiday Park then do share them with us on our Facebook pages.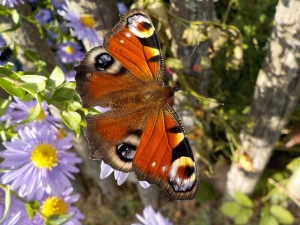 A Peacock Butterfly.